With the recent new real estate developments occurring in and outside of Port Moresby, it's easy to disregard another growing phenomenon – settlements. The common conception in people's minds when they hear of the settlement areas in and around the country's urban centres are the association with crime, coupled with poor and unsanitary living conditions.
Although the reality does consist, to an extent, of these unfavourable features; it is often easily forgotten that settlements are influenced by various factors which have contributed to their establishment, dynamics and growth.
How are Settlements Forming?
Before dwelling into the more technical elements of understanding settlements, it is important to understand how they come about to begin with. For a number or reasons such as the rural-urban drift, settlements have been known to form by an influx of people to areas through one of two common ways: the illegal occupancy of vacant State land or the selling of traditional land to settlers. This primary acquisition of land is then followed usually by the moving of wantoks to live together. It is for this reason many settlements, particularly in Port Moresby are identified by the dominant ethnic group living in that area.
Who Actually Lives in Settlements and Why?
The view of settlement residents has been plagued by the picture of a criminals and unemployed vagrants; however, a fact usually ignored is the harsh reality that a large composition of the residents in settlements are working class citizens forced into the settlements for a number of reasons, of particular concern has been the rapid increase in the real estate rental prices experienced around the country.
The Government has shared similar concerns with this issue where it was remarked in an article from the National Newspaper by the Minister for Commerce and Industry, Wera Mori, that "Real Estate in PNG and especially in Port Moresby are so expensive, it is beyond the affordability of many public servants, citizens, including MPs like myself." He further outlined that high dwelling costs and the prevalence of settlements is also apparent in other variurban centres such as Lae, Madang and Rabaul.
The Hausples Team had the opportunity to talk with Mr. Moses Wanjik, a resident of the Morata settlement for the past 7 years, where he shared his experiences of living in the settlement. Mr Wanjik works as a carpenter for L&A Construction and has previous employment with Fletcher Morobe Construction, with his qualifications in Carpentry obtained from the Madang Technical College and Australia Pacific Training College (APTC).
According to Mr Wanjik, the type of people living in the settlements range from public servants, employees of private companies and small to medium scale entrepreneurs. "These people chose to stay in settlements because they cannot afford the expensive rents in the city. In Morata, there are affordable rooms going at a rate of K200 – K250 per fortnight." These remarks further emphasise the fact that a large portion of the working class who cannot, as an alternative, live with relatives or afford the current rental prices are forced into settlements.
Are Settlements Useful?
The roles that settlements play can be seen as useful or otherwise, depending on one's perspective.
For residents like Mr Wanjik, the presence of the settlements has allowed him alongside others to have a roof over their heads instead of ending up on the streets. He also shared that settlements often include amenities such as trade stores and easy access to transport services which eases the burden of traveling into the suburban areas to acquire goods and services.
For those who tend to hold the negative view of settlements, it is usually from the understanding of them being used as a hub for criminal activity. This assessment was recently maintained by the Minister for National Planning and Monitoring, Richard Maru in an article by the National Newspaper. Hon. Richard Maru urged the landowners along the highway to refrain from selling portions of their land to settlers and rather invest in beneficial projects saying that "more settlements will bring more social issues to landowners, the Government and investors".
Arguably, it can also be said that the acceptance of the growth of settlements can be seen as 'unfair' to those who have purchased homes and land in planned communities such as Edai Town, Heliconia Ridge and Malolo Estate. Individuals in these areas are subject to a number of laws which requires them to pay for services such as electricity and water and the cost of the land itself. On the other hand, settlers have been accused of illegally accessing water and electricity supplies without paying for them because the lack of regulation in those areas.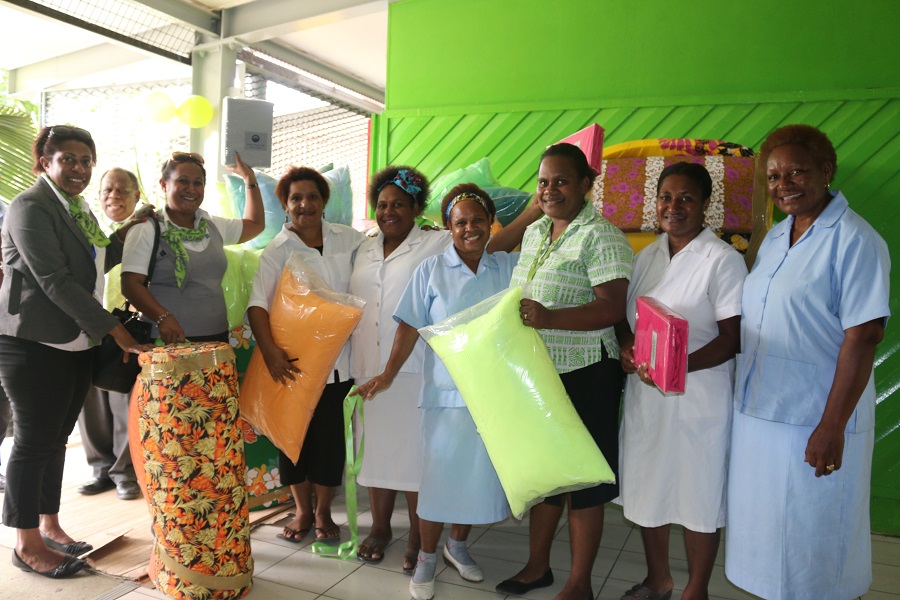 Pictured is the inside of the refurbished Morata clinic, a community project taken by the Bank South Pacific Paramount Staff in June 2017. Photo source: Skerah PNG
The Future of Settlements
To give a clear picture on what the future holds for the growing settlements around the city would be based on speculation. Past events have shown that there are realistically two main avenues which growing settlements can take; further growth or their demolition to make way for [new developments].
The potential for further growth is largely determined by the class of people moving into a particular settlement whom are able to invest in the area; the best example of this would be the Morata settlement. On the verge of becoming a fully-fledged suburb, Morata has seen an influx of private individuals, whom have most commonly invested in building large homes and leasing out rooms which has attracted much of the working-class people. In addition to this has been the establishment of services ranging from transport to education such as the Morata Primary School and Clinic
The other extreme is of course the demolition of these places to make way for development, especially where the settlement has been established on State land. The best illustration of this was the demolition of the Erima settlement in 2014 to make way for an expansion of the Hubert Murray highway as well as what is now the Kumul Flyover. Documented in an article by the Post Courier, it was stated that "More than 400 people, including women and children, have been left homeless after 42 homes were smashed down by an excavator".
Sentiments shared by Mr Wanjik was that "[S]ettlements are here to stay… Settlements must be incorporated into urbanisation plans for positive development to take place". From this point of view, it will be important to keep in mind that working-class people need a place to call home and many settlements are providing this critical service. As urban planners look toward the future of housing in Port Moresby and Papua New Guinea in general, it's vital to ensure the nations working people are accommodate in a safe and affordable environment. Failure to do so is will only result in poor outcomes for the working class and a necessary consequence a less liveable Papua New Guinea for all.