For over 60 years, PNG Forest Products (PNGFP) has emerged as an industry leader and contributed to the building of a better Papua New Guinea. With vast expertise of cumulative experience, PNGFP has "the ability and capacity to produce plywood and sawn timber in impressive volumes to suit the requirements of any client, and project solution capability to meet the pre-fabricated building needs of the mining, exploration, infrastructure, primary industry, tourism, community and residential housing sectors throughout PNG, the South Pacific and beyond".
Due to development in the urban areas of cities in PNG such as Port Moresby and Lae, Real Estate has been a growing market as more and more people look into owning a house one day. With the demand and need for affordable housing, PNGFP  have developed building solutions through their NiuHomes product line that can suit any building need, whether in the urban or rural areas. From the plantation to the end product, the kit homes are pine treated and ensure longevity with minimal maintenance to see you through the years. It is also great to know that they have taken the initiative to ensure forestization programs are implemented with a continual commitment to employing renewable plantation pine, restocked from an extensive nursery in the home base in Bulolo.
Homes Built to Last for Lifetimes
Look no further for home design and construction through NiuHomes, PNG Forest Products line of affordable housing. Being 100% PNG Made, NiuHomes are built and designed to meet the preference and style of a typical Papua New Guinean household. This exciting range of home designs offer quality and affordability that is ideal for a modern yet tropical lifestyle. From executive retreats, family homes and village homes, right through to commercial properties, the NiuHomes team has the right design for you.
When building a home you should ask yourself: "How long do I want my new home to last?" If the answer is: "For my lifetime and my kids' lifetime and their kids' lifetime and more…" then you need a NiuHome  from PNG Forest Products.
NiuHomes is PNG's first and only choice when it comes to quality, affordable kit homes that are made to last lifetimes. All NiuHomes' kit homes are constructed from PNGFP's pressure treated plantation pine timber and plywood. PNGFP's ability to produce pressure treated pine at their certified and international standard plant ensures quality, durable timber that is protected from termites and rotting. NiuHomes come in a range of styles to suit every budget and lifestyle from village living to executive retreats. And with prices starting from under K100,000 you won't find better value homes in PNG, particularly when you take into account all the inclusions.
"The most common reaction from customers is surprise at how affordable our kit homes are and how many inclusions they come with" said Geno Alu, NiuHomes sales representative. "People just can't believe that with some models you get everything you need including electrical wiring & fittings; plumbing kit including toilet and shower; hardware kit; joinery kit and even interior and exterior paint at such a low price!"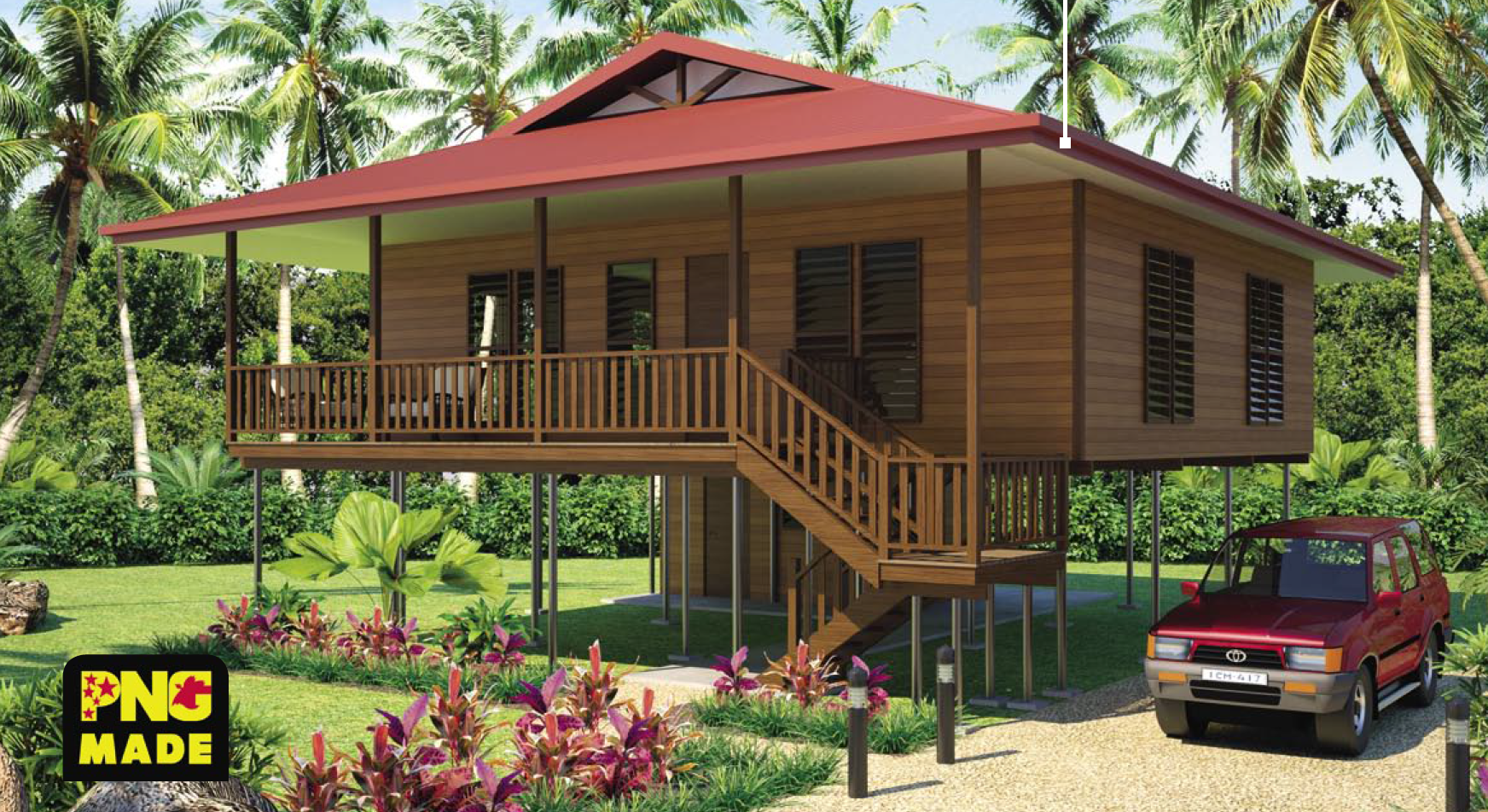 NiuHomes Range
The impressive range of unique designs makes NiuHomes the perfect solution for those looking to build. From unique executive and villages home to commercial buildings, NiuHomes are designed to suit the unpredictable PNG environment and weather in any location. With the focus on indoor/outdoor living, NiuHomes are ideal for the tropical lifestyle, with floor plans ranging from 20m2 - 220m2. Having a dedicated NiuHomes team, ensures that designs are tailored to an individual preference to produce contemporary and versatile housing to specific requirements.
NiuHomes Quality Standards
Building a home can be a strenuous task, especially when it is made of timber. With a renewable and sustainable pine plantation in the township of Bulolo, PNGFP takes prides in its treated pine that is termite resistant by AS standards. Longevity and minimal maintenance is ensured when you choose NiuHomes and with a quick response design team, you can be assured that your dream house is just a thought away. The utilization of quality products and materials through quality roofing, plumbing, electrical and hardware fittings and fixtures along with a complete furniture package represent the integrity of home and fortify PNGFP as being the certified choice for kit homes.
Enquire Today
Take advantage and be proud of a home that is 100% PNG Made and enquire today! Contact the friendly NiuHomes team on 323 5995 to find out how you can buy a new home from PNGFP NiuHomes.