Pictured above Rainbow Heights systematically laid out streets.
Expanding your network in order to further your career is made easier if you are located close to the headquarters of as many organizations as possible.
This makes downtown Port Moresby one of the most sought after work locations in Papua New Guinea especially for those that are in their early 20s to mid 40s. This age group is also most likely to be in the process of searching, purchasing and establishing their own family home. This process is another challenge when one is in the nation's capital, where there are many options, many prices and some risks.
Currently the trend being witnessed in Pom City is a steady decrease in rental prices and an increase at the same rate in purchase prices. If the same trend continues then a perfect time to purchase and make a sound investment in property is right now! There is a huge variety of house types, compounds, developments and land for sale in Port Moresby but one has to be careful when choosing to spend hard earned money. You don't want to spend on a property that will deteriorate fast, that has many plumbing and electrical issues - this will only result in making a larger hole in your bank account with a new repair job every month or so. You also don't want to be purchasing a property only to have to worry about the safety of your property, other assests and the occupants. 
If you want a house in a safe, reliable, easy to access location, that has back up water and electricity and with security provided; then Rainbow Heights Bungalows will be perfect for you!
Pictured above Rainbow Heights
Rainbow Heights Bungalows are located along the recently sealed Sivari Road in the newest part of Gerehu. This road makes downtown Port Moresby and the CBD an easy 10 minute daily commute via Baruni Road. There are a number of churches, a radio station, three commercial complexes and several businesses located along this stretch of road creating a network of security stops that were not there five years ago.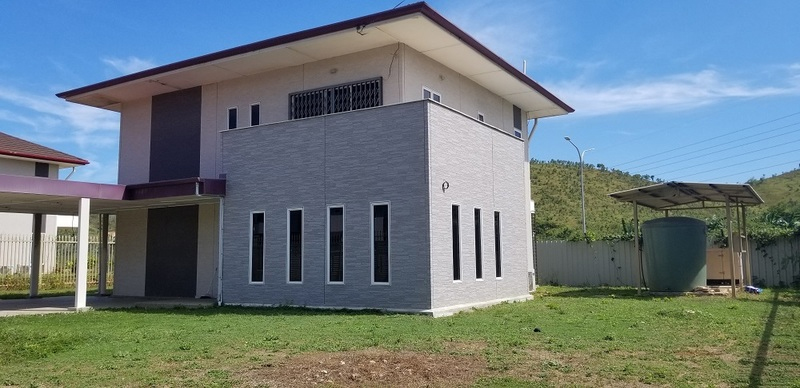 Pictured above Rainbow Heights showing back up water and electrcity.
The gated compound has 43 elegant, two storey, four bedroom houses. The houses have 725 sqm yards, providing adequate space for kids to play or for those hard to avoid family gatherings, offer three bathrooms including an ensuite in the master bedroom. The backup electricity and water, 24/7 security, a reinforced fence and security lights that keep the streets well lit make the K1,200,000  Rainbow Heights properties an attractive price for an extremely attractive location to put down roots and raise a family.
If you would like to see other residential property for sale within Gerehu click Here or if you would like to see what property is available for sale in PNG click Here. For a monthly newsletter subscription to find other attractive investment opportunities you can click Here or you can email [email protected]