Papua New Guinea is becoming an increasingly interesting investment location for business and industry expansion. But it's also becoming a breeding ground for many emerging startups that come from various industries and sectors. So, it is typical for these businesses and individuals to expand their physical work space as they expand their network.
How do you Find the Perfect Office Space?
Great work spaces need to address the needs of the business or organization. Its characteristics include a safe and convenient location, a reasonable price, good infrastructure, and a decent work area. But getting these things on your own doesn't come easy or cheap – especially if you're just starting out. Strategically located in Stanley Esplanade, Harbourside West Tower Serviced Offices offers easy access to just that.
There are also dining options at Harbourside itself, like Duffy, Tandoor on the Harbour, The Naked Fish on the Pier, and The Pier Drinking Consultants, and Sogno – So, whether you are looking for a quick bite, coffee, or a fine dining experience to woo your clients, Harbourside is the perfect place for this.
What Range of Office Spaces Does Harbourside West Tower Serviced Offices Have?
More than the convenient location, Harbourside West Tower Serviced Offices also offers a wide variety of fully-equipped and fully-furnished office spaces that cater to the needs of different business models – from a 5 sqm one-person private unit that costs K4,576 a month, all the way to a 70 sqm fully-equipped 12-person office for just K23,100 a month.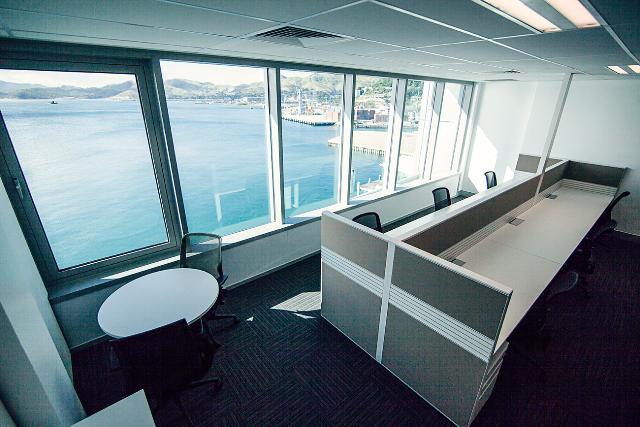 Other options include a 8.8 sqm 2 to 3-person office for K7,436 a month, a 36 sqm 4-person office for K11,880 a month, a 46 sqm 7-person office for K15,180 a month, a 43 sqm 6-person office for K12,613.33 a month, a 45 sqm 6-person office  for K13,200 a month, a 54 sqm 7-person office for K17,820 a month, and a 50 sqm 8-person office for K10,982.40 a month.
If you're looking for something more cost efficient, another feature that Harbourside West Tower Serviced Offices offers is its K60 hot desk seats that essentially allows budding entrepreneurs and freelancers to get a space of their own on a shared office environment to easily veer away from the rush of the central business district.
What Makes Harbourside West Tower Serviced Offices So Special?
All the units here are accompanied with a great view of the Fairfax Harbour or the Central Business District and can be leased for both short or long-term purposes. This means flexible rental arrangements that can be done on a monthly, weekly, daily, or even on an hourly basis.
Each unit also comes equipped with a set of modern and high quality desks, chairs, and filing cabinets. Renting a unit also allows businesses to use shared facilities such as the fridge, microwave, kitchen, and the breakout area. The rent is inclusive of utilities such as washrooms, water, electricity, general office cleaning once a week, 24-hour security, and competent support staff.
Harbourside West Tower Serviced Offices does not claim to be able to run your business for you, but it offers you the ability to take charge and help you run your office space and environment. With your own fully-furnished work space and a fully-trained support staff, all you'll ever need to do is to turn your business into a success! So, when work starts becoming a hassle more than an asset and it slowly becomes your life, it's worth checking to see if you can live that work life more efficiently at the Harbourside West Tower Serviced Offices!
or