If there was a better theme in today's Real Estate Show at Sir Ignatius Kilage Stadium in Lae, it would be Hausples' impressive commitment to the Real Estate Industry in Lae and PNG's most reliable and trusted online real estate portal. Nothing can compare to such dedicated focus, let alone the ability to pull it off.
With the first day complete, the exhibitors are geared up for a busy Saturday. 

The 2019 Lae Real Estate Show took off smoothly with a healthy, and occasionally overwhelming, crowd. More promising were the number of interests into the stadium and in front of individual booths - a telltale sign of how impressive the collective efforts of Hausples has amounted to.
In a more delightful manner, few exhibitors had surprises up their sleeves such as Atlas Steel, who showed up with brand ambassador and former Kumul, Brandy Peter, and Niugini Electrical with their solar powered refrigerator and washing machine. Also joining the fun was Crossroads Hotel, who took advantage of the opportunity to do a lucky draw promotion that centered around free Japanese-inspired breakfast, and affordable living spaces as a whole. "All you have to do is write your name, contact details and drop it into a container which we will draw on the final day," said Max Meta, senior Chef for Crossroads Hotel, who was also pleased with the turnout of day one, in terms of visitors to their booth. 
MarketMeri shared the same sentiment, witnessing a fair share of crowd that gave them no room for break.
Overall, the general mood was tender, full of smiles and moderate yet fantastic networking, which attracted an estimated  1,000 visitors (a 100% increase on last year). Thus, ending day one of the Lae Real Estate Show 2019 on a promising note.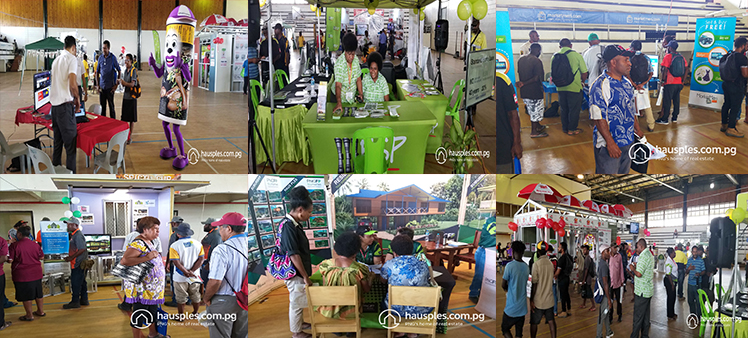 We look forward to Day Two.