Papua New Guinea is an attractive destination for expatriate workers. Career growth is a significant drawcard for employees, with the ability to secure senior roles that might otherwise be unavailable in their home country. In addition, the salaries and benefits available to expatriate workers are substantial, often exceeding comparable domestic wages.  
Financial benefits and career growth, when coupled with the unique experience of working in a developing country and contributing to the country's betterment, make PNG a dynamic employment destination for those willing to take up the challenge.  
Types of Jobs Available in PNG
Papua New Guinea welcomes workers from various professions; from general business roles such as CFO's (Chief Financial Officer) and engineers, pilots, head chefs, and salespeople; the opportunities are limitless. 
Notwithstanding the variety of jobs available, PNG's major industries dominate the opportunities for expatriates, such as mining, oil and gas projects, construction, banking,  and aviation. Specific disciplines that are in demand include management, accounting, HR, IT and engineering.    
Residential vs FIFO Roles
Residential roles are PNG based, with the employee having a permanent residential address in the country. By contrast, fly-in-fly-out or FIFO roles require the employee to be stationed in a location on a rotational basis for a period of time before returning home for a period. 
FIFO roles are typical in the aviation industry or for work at remote locations such as a mine site. Rotation periods vary between 4 to 6 weeks on-site and 4 to 2 weeks at home. 
Wages in Papua New Guinea
Wages and benefits for expatriate workers in PNG are generally materially higher than for equivalent roles domestically. 
By law, all citizens and expatriate workers in PNG must be paid in PNG Kina directly to a PNG bank account. Contracts normally state an agreed wage in Kina; however, some employment contracts will benchmark against a foreign currency to protect the employee against currency fluctuations. Employees should check whether their wages are benchmarked against their local currency.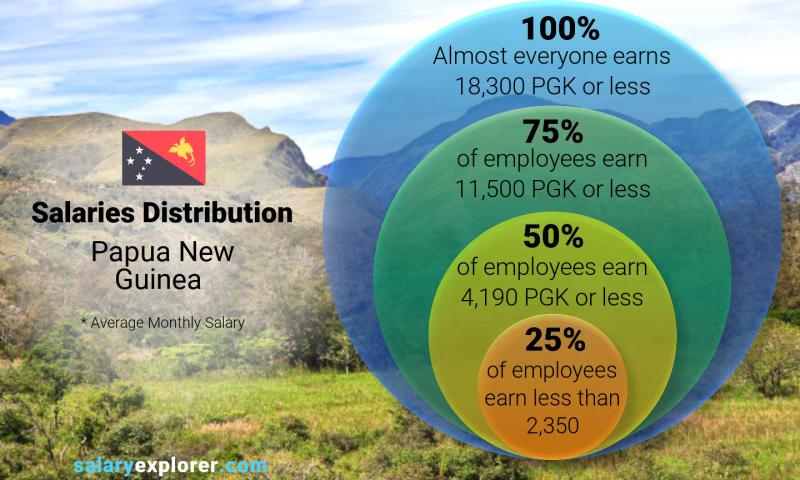 Image Source: salaryexplorer.com
Employment Benefits
Employment benefits for expat employees in PNG vary by industry and company. Still, they often include many of the costs of living that an employee may otherwise bear themselves, making roles in PNG highly attractive. 
Expat benefits for residential employees generally include:
A vehicle
Accommodation
School fees
Club memberships
Return flights to their resident country
Personal protective equipment (if required)
Insurances
Expat benefits for FIFO employees often include:
Meals
Accommodation
Return flights to their resident country
Personal protective equipment (if required)
Insurances 
PNG Income tax
Income tax in PNG is relatively high compared with other countries, with the top tax band at around 42%. Employers will calculate and deduct income tax on behalf of the employee.
Employees should note that there are no compulsory pension or superannuation deductions for non-citizen workers. Employees should consider specifying that their employer makes superannuation or pension payments to their relevant scheme in their home country on their behalf. 
Papua New Guinea has existing tax treaties with many countries, including Australia, New Zealand, Canada, China, Indonesia and the UK. As a result, workers with an employment contract for greater than 2 years are typically deemed to be non-resident for tax purposes and are not required to file tax returns in their home country.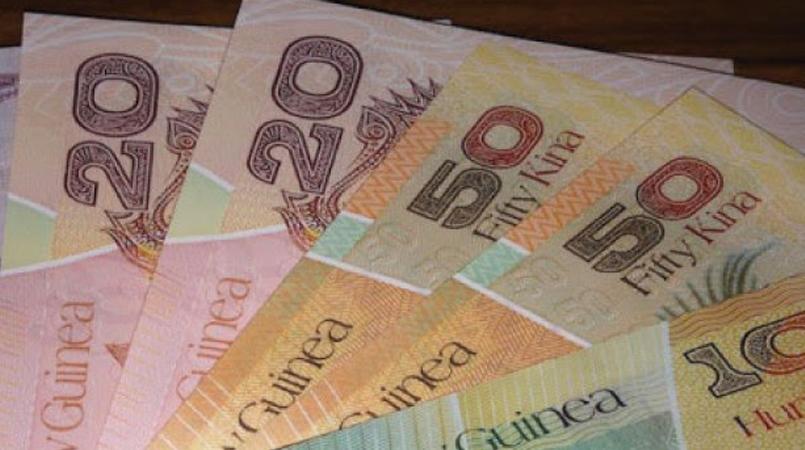 Image Source: Looppng.com
Repatriation of Wages
Foreign employees are often concerned that Papua New Guinea's low foreign currency reserves will inhibit their ability to repatriate their funds to their home country.
Whilst PNG's currency reserves are limited, expatriates can freely transfer funds by internet banking to an overseas account subject to a K10,000 limit per day with a bank fee of ~K50 per transaction.
Visas and Work Permits in PNG
The employer in PNG generally obtains visas and work permits on behalf of the employee. 
Image Source: papuanewguinea.travel
Things to Consider When Taking a Job in PNG
While Papua New Guinea is a great place to live and work, several things should be considered before accepting a role. 
Your partner and children must fully understand the limitations when living in a foreign, developing country. For example, there are restrictions on movement in terms of security, which can have a major impact on lifestyle. Therefore, it is essential to conduct research and speak with other people who have lived or worked in PNG before taking the plunge.
In addition, candidates should ideally possess specific personal attributes which make the transition easier; these include resilience, flexibility, cultural adaptability, positivity, mentoring capability and a willingness to create change.