Taking that big step towards homeownership just got a whole lot better with the 2018 Hausples Lae Show.

The Lae Show is the brainchild of Hausples - PNG's leading real estate portal which has over 3,000 properties listed by individuals, developers, builders and agencies.

Rolling off the success of the Port Moresby Show, this is tipped to be one of Lae's greatest and most educational event as it will feature agents, developers and leading banks as well as service providers participate hence allowing you the chance to tap into a wealth of knowledge and know how that will be available under all one roof.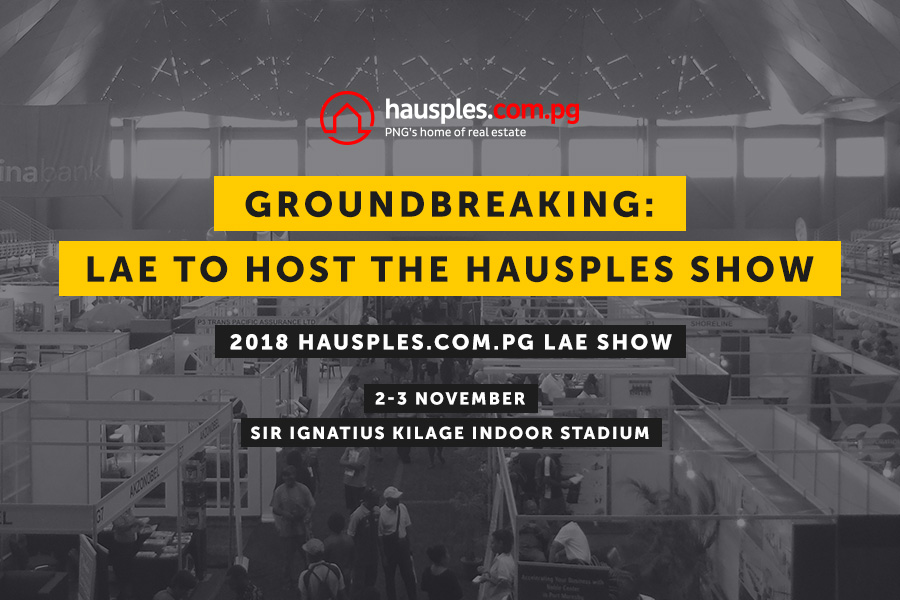 2018 PNG Real Estate Show, Port Moresby
The recent 2018 PNG Real Estate Survey conducted by Hausples has shown that there is a significant increase in middle-income earners across the market which indicates a positive forecast for property sales. It has also shown an increase in the demand for affordable housing with many willing to spend between K200,000 and K400,000 on property market.

With this general feedback, Hausples has made the decision to address on the demand for housing whether it is for purchasing or for rentals and bring together all the professionals and experts in this field under one roof for two days.

This is a rare opportunity to meet all the stakeholders in the real estate industry and get the best advice with regards to land purchases, taking out a loan for your house and also to gather first hand the steps and procedures to follow in order to seal the deal on your home.

The event will also feature many of PNG's real estate agents and the properties that they have on offer. This is an avenue for potential homebuyers as data shows that there is a willingness for people in PNG to purchase properties but also a longer time frame before committing to purchase with one of the many reasons being the delay in finding their dream home and then securing a loan.

This Hausples Lae Show will assist the potential buyers as it showcases a whole range of expertise giving opportunity for many to visit the various booths and compare prices and affordability of the various properties on offer and at the same time, talk to a bank representatives with regards to a home loan and the best part is that it is all under one roof.

Apart from featuring real estate agents and banking service providers, the Lae Show has roped in the services of a few renowned developers and manufacturers with PNG Forest Products being one. PNG Forest Products is the country's largest producer of pressure treated plantation timber and plywood products. Having them on board along with other companies and service providers will also allow the Show participants to be able to see and choose the products they will need for the renovations or even construction of their dream homes.
Sir Ignatius Kilage Stadium from the Lae Yacht Club | Source: RainyLae
Location
The Lae Show will be held at the Sir Ignatius Kilage sports complex which features a 500 seated Grandstand and an additional 1,000 bench seat. With the close proximity of the renowned stadium to the main city centre as well as the large sitting space, this 2018 Hausples Lae Show is expected to be one of a kind for the city.
Lae is PNG's second largest city and is the capital of the Morobe Province. It is ideally situated as it near the delta of the Markham River, at the start of the Highlands Highway which is the main corridor between the Highlands and the coast. The city is also known as the Garden City and is the largest cargo port in the country.

What to expect
Imagine walking into a venue with a preconceived idea of your dream home. You then enter and meet with banking specialists who will then discuss your eligibility and also give you a brief idea of how much you can then spend on a house, you walk further down the aisle and come across a number of real estate agents. You then scrutinise and compare prices, choose your dream home and then book it. Further down, you will come across developers, construction companies or even manufacturers who can then give you a quote as well as advice on which timber to use or which is the best material for the area of your choice. Equipped with all these details, you then return to the Banking representative and proceed with the purchase of your new home.

This is what the 2018 Lae Show has on offer and with the diverse number of companies, real estate agents and service providers on board, it is expected to become a one-stop property shop for two days.