Real estate enthusiasts had much to gain from Valentine's Day than the average night-for-two hotel package. PNG's leading property portal, Hausples Limited, revealed the PNG Real Estate Survey 2020 last Friday, 14th of February, 2020 at the Lamana Hotel. 
The occasion was more than just appealing to real estate professionals, VIPs and a few guests. Invitees were treated to an insightful three hours, punctuated by key sentiments concerning the current property market, as identified by the survey. 
"The survey isn't just about numbers. It gives us feedback on what the consumer is actually after," said the General Manager of Hausples Limited, Tom Snelling. "It gives us an idea of the wants and needs of the consumer, such as how many bedrooms the people want? What's the landmass that people want? How much money are people willing to spend on houses? This is the information we need in order to build properties that sell at the end of the day."     
With four years of data on hand, Hausples is able to update and single out consistency in the data, since the first survey edition in 2017. However, according to Mr. Snelling, anomalies are a given every now and then. So what the number one property portal does is to visit the blueprint of these anomalies, in order to determine a corresponding standard.
Hausples proclaims that such occasions are strategic paths for real estate and related industry professionals to extend their market reach, as well as improve their list of genuine business partners. In retrospect, this survey is designed to benefit real estate agents, developers, builders and contractors.
Some of the key outcomes that were noted during the occasion were: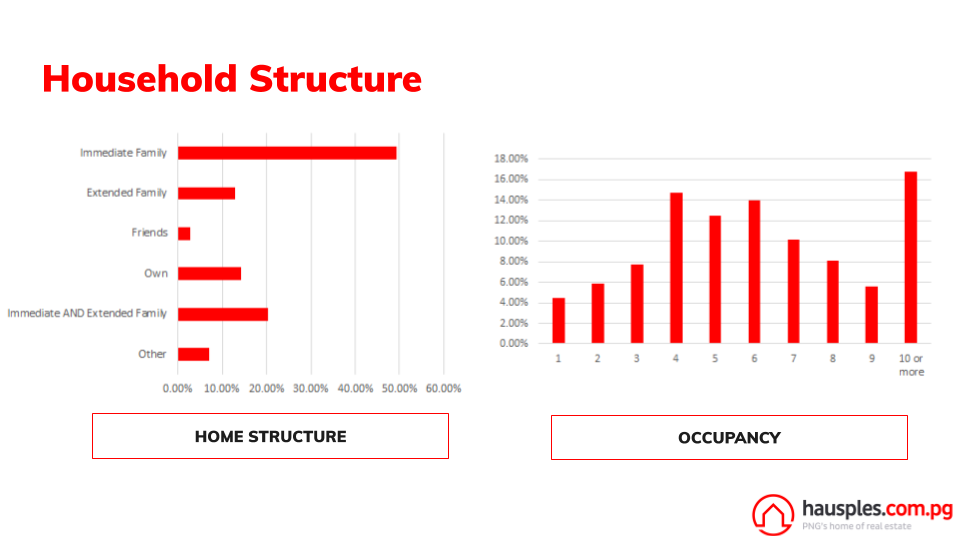 Nearly half of the respondents claimed they share the same roof with their immediate family or extended family; hence, PNG is a family oriented society

Mean occupancy is between 4 to 6, where a surprising 16% had over 10 occupants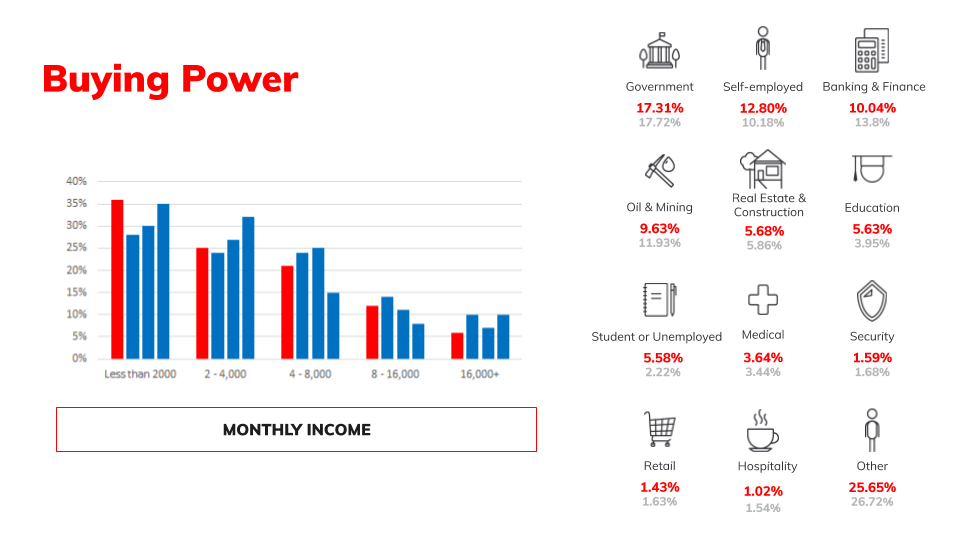 Household  incomes appear to have dropped significantly since last year. Those earning less than K2,000 per month has jumped to 36% (against 27% in 2019)

Last years survey was conducted just 5 weeks after APEC, so those results may have been overstated

There is an increase in the under 30's, which represents the portion of the population that earns less than their elders.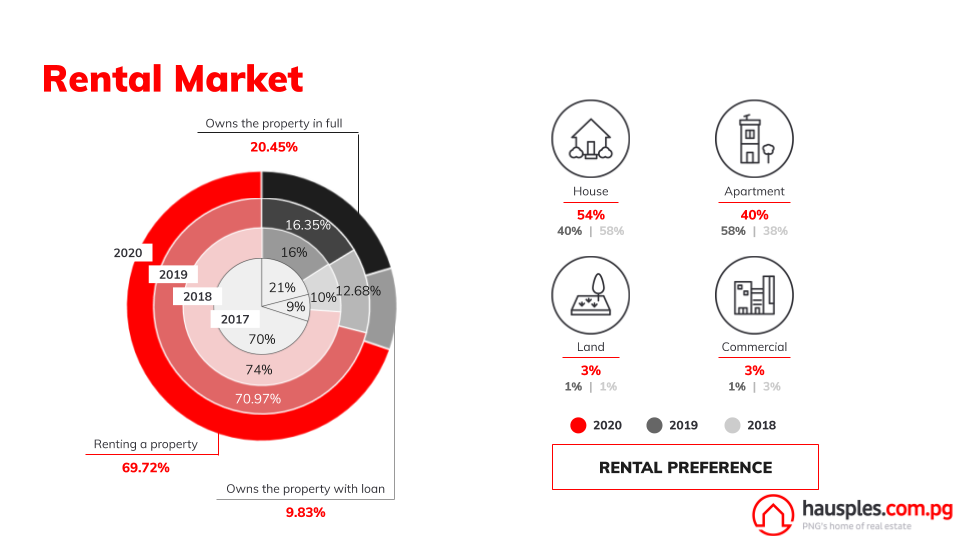 Number of people wanting to rent a house has increased to 54% (40% in 2019, but 58% in 2018)

Apartments have dropped against last year's results 

Again, this could be the result of APEC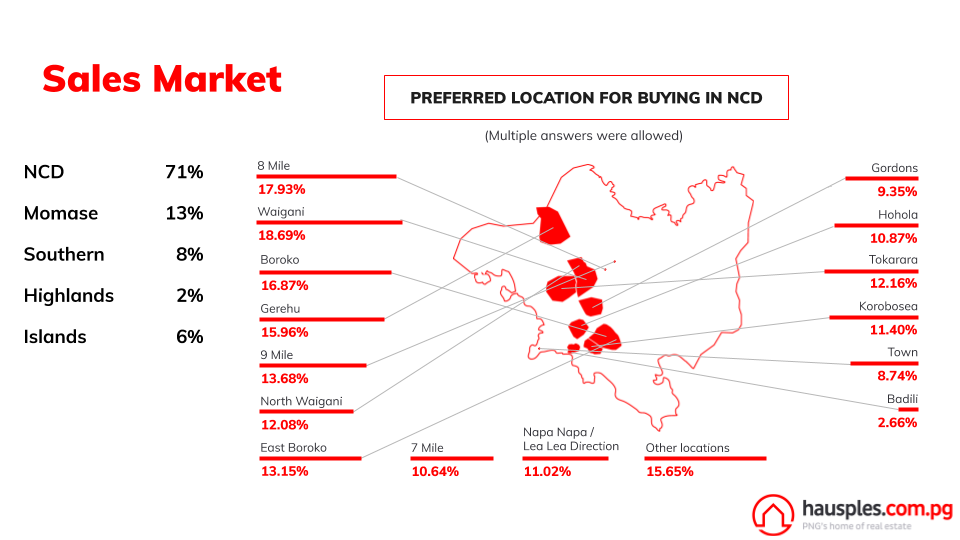 Usual suspects in terms of preferred Location to buy property were Boroko and Gerehu, topping out the list

There is an notable increase in demand for outer-city locations such as 9-Mile, 7-Mile, Napa Napa/Lea Lea - almost certainly due to cheaper prices

Tokarara was favorable among buyers in the sales market, compared to the rental market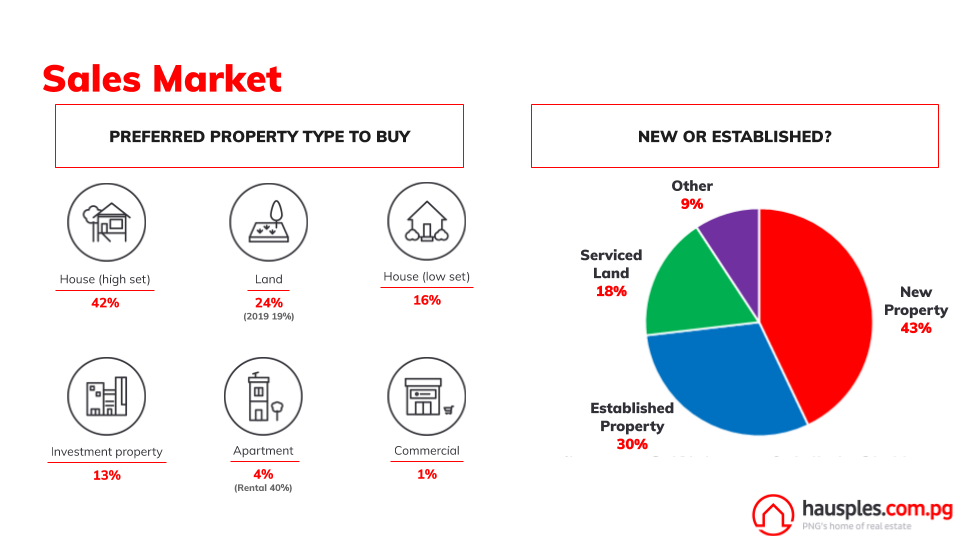 Hi-Set houses are still the most popular choice and the results are mostly consistent with previous years, except "Land Only" which improved by 5 points for this year

Interestingly, Apartments are extremely unpopular in the Sales market at 4%, compared to the rental at 40%

New properties are more popular than established ones - and "Serviced Land" is also in demand.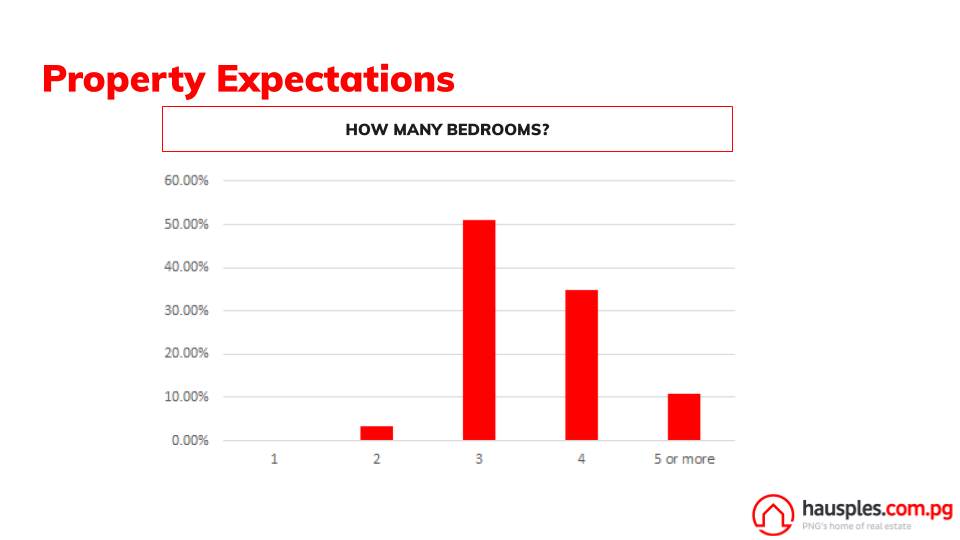 Looking deeper into the types of houses our respondents want to buy; 3-Bed to 4-Bed is a must, and little demand for anything smaller. Again, PNG is a family oriented society.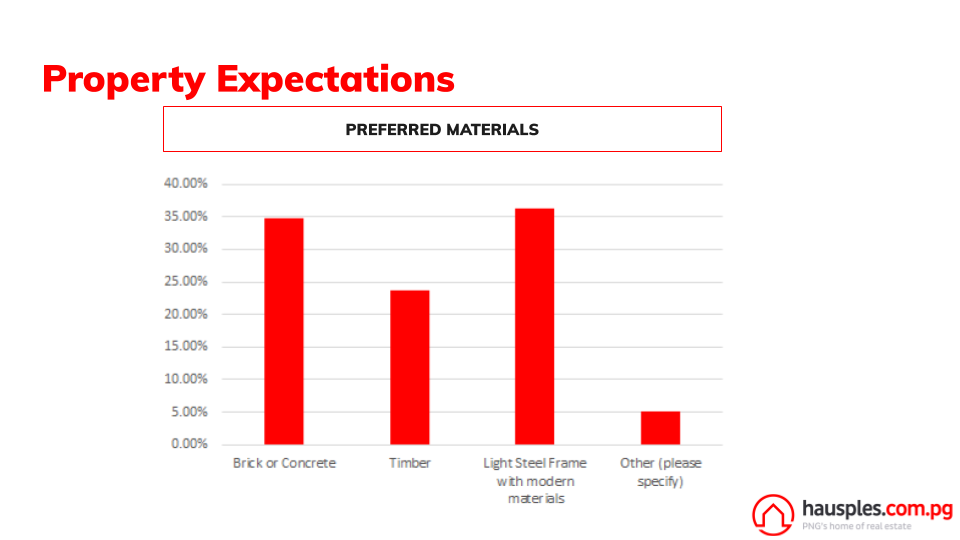 People are prepared to accept modern materials over brick or timber, probably due to the price difference.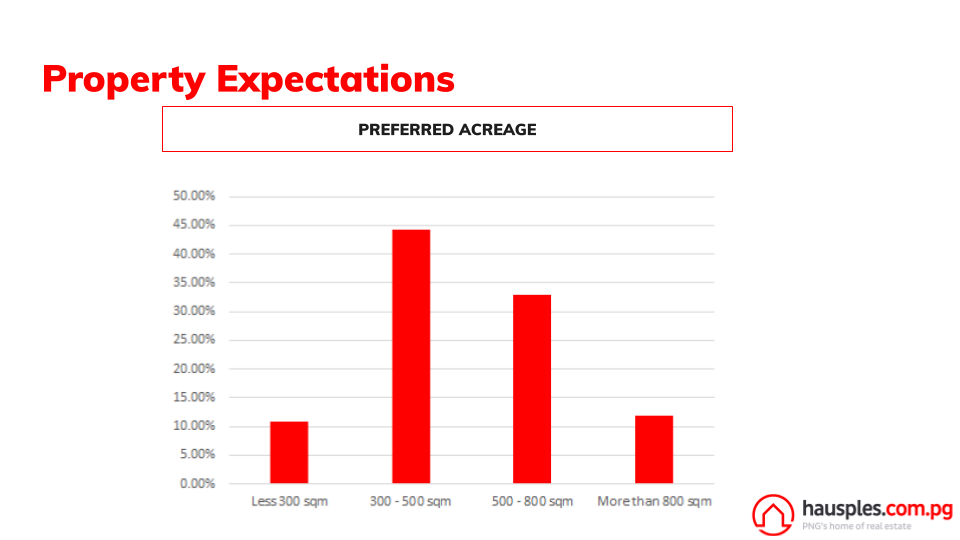 Acreage-wise, 300-500 sqm or above is the most popular choice. In comparison, the average block  size in Australia is 474sqm. This gives us a lot of information for property developers about the type of housing, location, sizes, and preferred materials. But the question is, how much are people prepared to spend?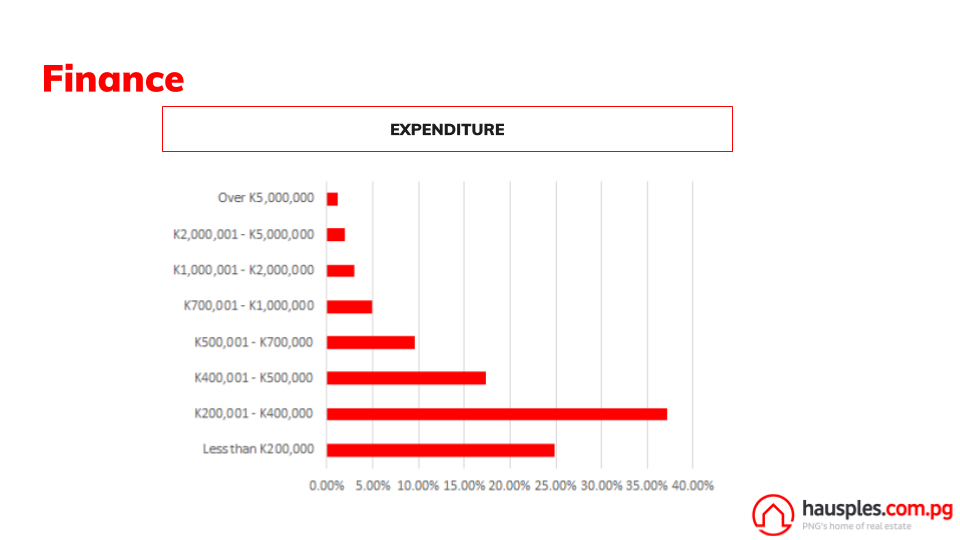 As expected, anything within the First Home Ownership Scheme is most sought after, a probable cause for higher prices to wither quickly. Basically, the task is to build a 3-bed house for less than K400,000. However, we have established a demand for Serviced Land at a similar proportion to less than K200,000.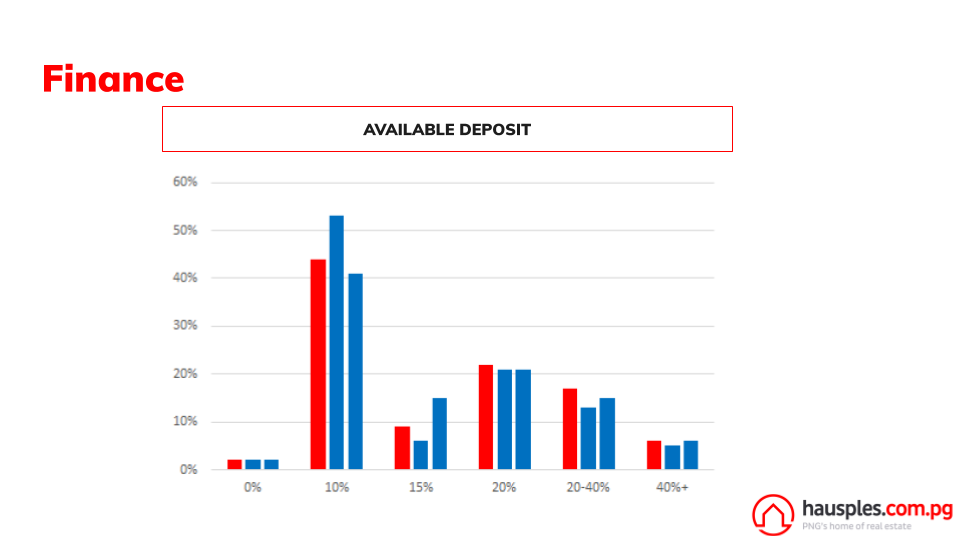 The majority would expect to put a minimum 10% down as a deposit.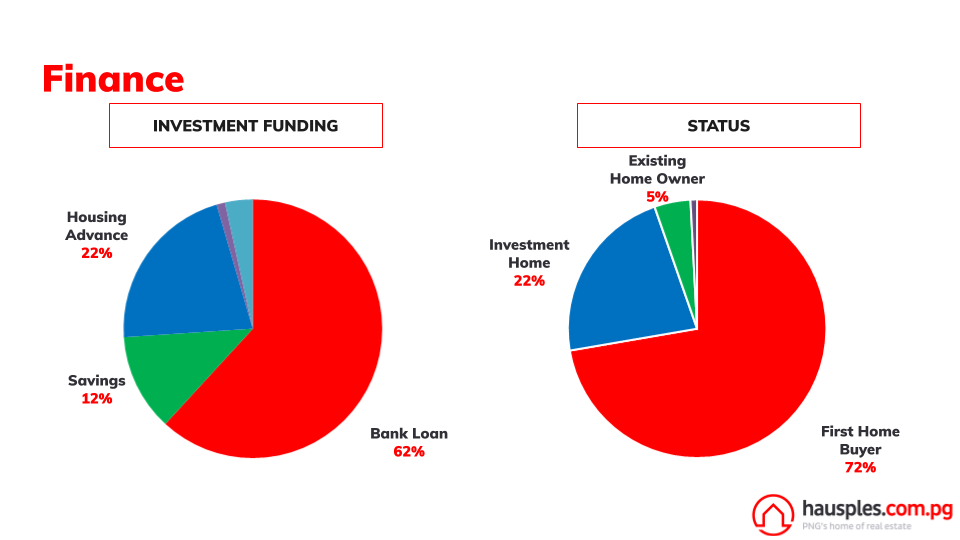 The deposit would mostly come from a Housing Advance, but the bulk of the finance points to a home loan.

Most respondents would be first home buyers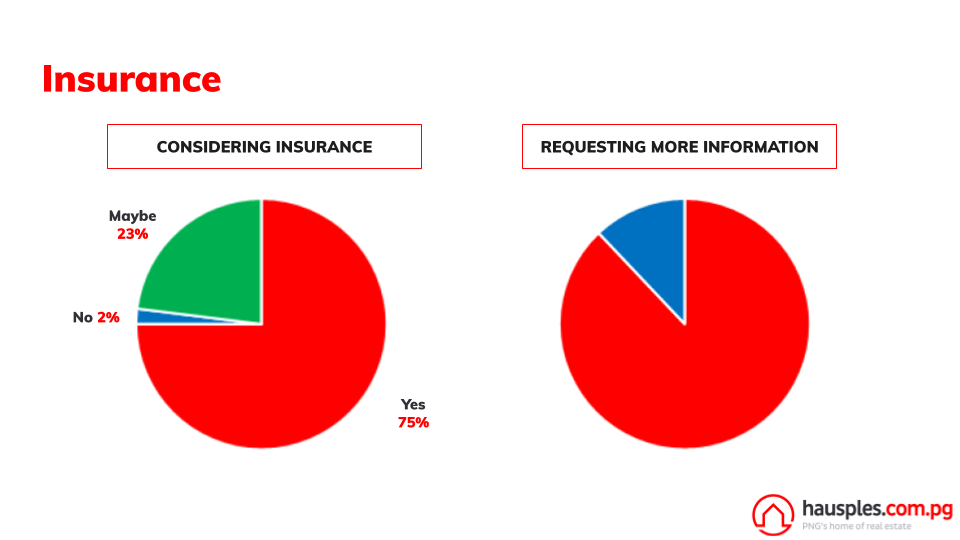 How people view other financial products, such as insurance, shows maturity in financial literacy

About ¾ would definitely take out an insurance policy and 23% saying maybe. Again, the majority (88%) requested more information on home insurance.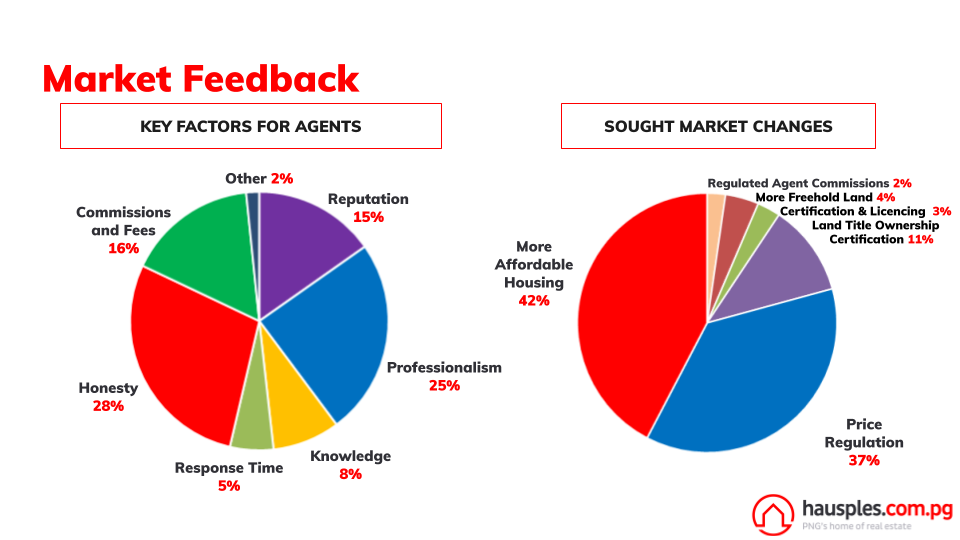 "More affordable housing" is the biggest request change in the property market, and most of the sentiments revolved around price regulation. Realistically, regulation would be almost impossible to implement. However, it does show that there is concern within the market about property prices.
"Such property events are very helpful and informative, especially the latest from surveys. It helps us real estate professionals in many ways, and not just property managers, but all stakeholders like property contractors and developers," advised Mr. Carlito Adlawan, property manager of KMS Property. "In my line of duty, I rely on information on the Hausples website, to understand the locals' perception of the affordability of the property market and pricing demands. These events are in themselves informative and today was no different. I'm wishing now that I should've asked my mates from Primus and Salcon Builders to come along. It's the kind of information they'll be interested in." 
Moreover, the event proved worthy as an ideal platform for extensive business growth and networking in PNG's real estate sector. 
From a consumer's standpoint, the sentiments become the instrument for companies to measure the level of satisfaction around their products and services, and are suggestive of what's working, what's not, what should be done, and what is expected.
For more information, simply: 
Visit www.hausples.com.pg, email: [email protected], or call: (+675) 74700243.