More than 10,000 visitors are expected to attend The Home and Car Expo 2019 at the Sir John Guise Stadium this Friday and Saturday, June 21 to 22.
The annual event is an opportunity for people to have access to a "one-stop shop" in, especially, the real estate industry. It gives attendees a chance to experience first-hand what's new and trending, in addition to a safe and friendly environment without the hassle of long lines and busy schedules. This year, however, Hausples and MarketMeri have decided to bring in the automotive industry parallel to its show for 2019, hence the home and car show.
This aligns with popular requests by clients in last year's 2018 Real Estate Show, and has achieved the status of being the First Car Show in PNG, rewriting the aphorism "The More, The Merrier" to "Even Bigger, Even Better."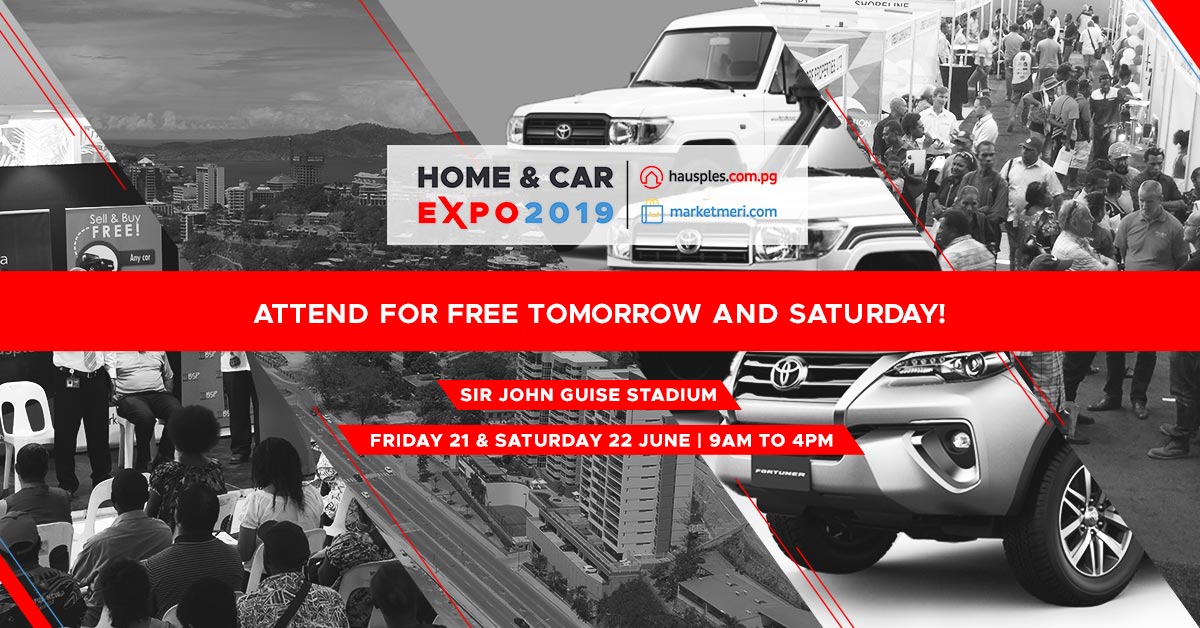 Here's why:
Exhibitors
This time around, not only is the show intriguing for the real estate leaders, but also the who's who of related industries, to which the likes of Pacific Palms Property, Bank South Pacific, China Railway Construction Engineering Real Estate Co. Limited (CRCEG) and Nambawan Super have each secured a spot.
The other confirmed exhibitors include:
Airways Residences, Century 21, Kupiane Management Services, EDAI Town and the Real Estate Industry Association representing the Real Estate sector. A large portion of the building industry will also serve the purpose of this event, and is spoken for by PNG Forest Products, Rhodes PNG, Red Sea Housing, Monier, Primus, Hardware Haus, Atlas Steel, Global Kit Homes and Stratostream. The Banking & Finance sector encompasses Trans Pacific Assurance Ltd, NSL, Kina Bank, Fincorp, Westpac, and First Investment Finance Limited, who will be joining both BSP and MoniPlus.
The outdoors in front of the indoor complex will be dominated by the automotive industry: Ela Motors to take centre stage with the launching of their latest RAV-4s and HiAce buses. Motorist Mart, the sole distributor of the Futon vehicle models in PNG, will unveil their brand new fleet alongside a range of vehicles and services by 2-Fast Motors and Freeway Motors. AutoParts Online, Terrain Tamers for the 4WD enthusiasts, and Color Studios showcasing their vehicle wrapping, will be close at hand. As well as Islands Petroleum with a variation of fuel and lubricant needs. The security and tracking sector will entail a comprehensive list of security-oriented products and services by Corps Security, Rapid Response, and SecurityPlus.
Additional exhibitors constitute Pacific Foam, Post Courier, Pure Water, Aspen Medical and Lightspeed Internet, going side by side with Post PNG, Telikom, Womens Resource Centre, PNG SME Magazine, RSPCA and PNG Institute of Architects. SP Brewery have also registered with a tent to promote their When You Drive, Never Drink campaign, next to an outstanding 4 Wheel Drive display, also outdoors.
Seminars
At the heart of the Home & Car Expo 2019 are the seminars. A definitive business opportunity for clients and exhibitors to interact, in order to better understand each others' needs and wants, and gain additional insights into factors affecting decision-making on both sides of the spectrum.
Industry experts like Tom Snelling (Hausples Limited), Daniel Berry (REIA), and Kili Tambua (BSP) will be joined by John Leahy (LLLS), Linda Garo (TPAL), Kym Yong (EDAI Town Ltd), David MacKenzie (Rhodes PNG), and Yawetau Salem (Kina Bank) in the panel discussions. The expert speakers will cover specific subjects such as stratos titles, house pricing, and home loans. Supplementary topics will take on affordable housing and finance, building techniques, and home security.
The panel discussions are interactive and public participation is greatly encouraged.
FM 100's Cullighan Tanda will host and moderate the seminars.
The seminars will take place in the foyer and will be live streamed to the exhibition area. Access is available between the Rhodes and PNG Forest Products booths and entry is free.
Show and Shine
A Motor Show is not complete with a Show and Shine; a display of unique and modified cars in PNG. Porches, BMWs and Mercedes to highlight the show and shine plus heaps more.
Amenities
Creche or Kids' Corner
Giving parents an extra hand with childcare while they explore the show, was a special consideration for the Home & Car Expo 2019. An area has been allocated for children to relax and be entertained under the professional supervision of PlayStation.
A bouncy castle will also add to the kids' entertainment.
Food Stalls
Hausples and MarketMeri had to ensure the event runs smoothly and safely for attendees when eating. Clean, spacious food stalls will count towards this initiative. Modelling the food stalls are Fab Catering, Food Station, Paradise Foods, Central Mamina Fresh Coffee and Italian Gelato, plus other smaller outdoor cafeterias.
Security
The safety and security of visitors and exhibitors is a key concern for the planners, and this will be overseen and managed by SecurityPlus. Security personnel to be strategically placed inside and out. Visitors will be checked on entry, and weapons of any kind are strictly prohibited.
CCTVs will feature throughout various angles of the indoor and outdoor arenas. It's a counter measure by the organizers in ensuring a high level of safety and security for both visitors and exhibitors.
Emergency
In the unlikely event of a medical emergency, Aspen Medical will have trained professionals and an ambulance on standby.
Registration Desks
A vital component to the success of any event are the visitors. This is why the Home & Car Expo 2019 has registration desks at the entrances. Registration is free, and if you haven't registered yet online, you can still register upon arrival.
On the whole, this Friday 21 and Saturday 22, suspense will end, anticipation will conclude, and understanding begins. It's the "Even Bigger and Even Better" exposition for real estate in 2019. The show starts at 9am and ends at 4pm. Again, entry is free, and everyone is welcome.
Hausples Limited wishes to extend its gratitude to the Sponsors, Exhibitors and Media Partners who have made this event possible.