The dream of owning your own home may not be too far off.
You have been looking through different property for sale on the Hausples.com and Marketmeri.com websites. You may have decided where you want to build and perhaps already have a home builder or a developer in mind. The next thing you will want to do, is to get as much information as you can in order to finance this plan and make it become a reality.
BSP will be at the 2018 PNG Real Estate Show on Friday the 1st and Saturday the 2nd of June to give you exactly the type of information you need to help you take the final steps to purchase your home. The BSP booth will be the second booth from the left as soon as you enter the main arena.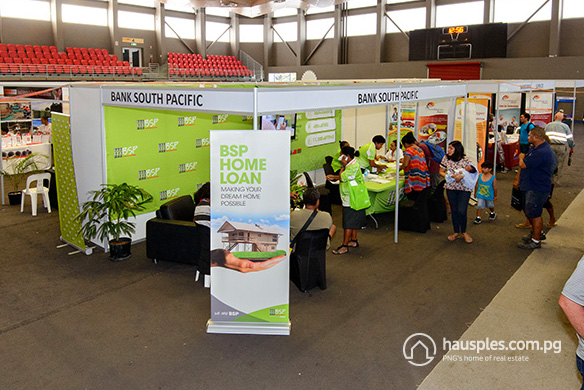 The 2017 PNG Real Estate Show - visitors at the BSP Booth
At BSP they know that, owning a house or property is not only a good investment, it gives you security, a stable place for your family and the freedom to build a home that you can call your own.
The Bank offers two main Home Loan Products, the Standard BSP Home Loan which now offers 7.45% pa and First Home Ownership Scheme (FHOS) with an interest rate of 4% pa. The main difference between these two products is; the Standard BSP Home Loan is for individuals seeking to purchase, build or extend a home to live in or to refinance an existing debt from a known financial institution. The FHOS Loan is available to customers who wish to buy their first home for their own dwelling.
The FHOS offers loan amounts between K200, 000 to K400, 000 while the Standard BSP Home Loan amounts vary. Customers who fall outside of the FHOS can still take advantage of the reduced interest rates and obtain a Standard Home Loan for a term of 40 years. The equity requirement under the Standard BSP Home Loan is 20% while the FHOS requires 10% equity with special conditions that apply.
Standard BSP Home Loan
What do I need?
Completed BSP Home Loan Application

Three (3) latest pay slips

Letter of offer disclosing the purchase price

Acceptance of offer by the vendor

Copy of Title deed from vendor confirming ownership

Evidence of 20% equity contribution

Confirmation letter of employment from employer disclosing salary and housing allowance (if any) or copy of contract of employment (if any)
First Home Ownership Scheme Loan
Eligibility
Be a PNG Citizen and a first home buyer

Provide proof and evidence of 10% equity

Be an employee of either public service or the private sector and earning

a regular income
What do I need?
Provide three (3) months statement if account is held with another bank

Provide three (3) latest payslips

Confirmation of employment or copy of contract of employment
How to Apply
Complete a BSP Loan Application

Submit copy of Title Deed confirming ownership of land/Lease is State owned

Statutory declaration confirming acquisition is your first and will be owner occupied
Restrictions will apply on refinancing or resale of the property under this housing scheme. While there has been interest, BSP continues to encourage potential home buyers to have a plan, set goals and start saving for your home equity.
You can register here and come visit the BSP exhibition booth during the 2018 PNG Real Estate Show on Friday June 1st and Saturday June 2nd in order to get more information on what steps you need to take in order to own your own home. 
For more information you can email sup[email protected] or call D: +675 7470 0243|B: +675 7526 4887