Traveling to another country is always an unsettling experience regardless of what you do, the distance you've traveled or whether your new country has a similar culture to your origins or not. This process has been made slightly easier by the internet but accessing reliable and current information is still a chore and information obtained locally is more trustworthy and relevant. 
Moving to Papua New Guinea or PNG, would be a daunting process, especially if one is moving from a more economically developed country. This tiny Pacific island country is one hundred and sixty kilometers north of Australia, has a population of over 7 million, over 800 languages and a reputation for being 'The Land of the Unexpected'; but it has an exotic allure combining the best of urban entertainment whilst allowing for various off-the-beaten track type of holiday adventures.
PNG, being located in the heart of the tropics, provides a wide range of outdoor activities and you can be guaranteed that the weather will be perfect not matter your chosen activity. Another great advantage is the countless locations to choose from to go diving, snorkeling, swimming, trekking, kayaking, fishing, birdwatching etc. The statutory body that is responsible for coordinating and regulating all tourism activities is the Tourism Promotion Authority.
Entry Requirements
For your benefit it's best to know your specific visa requirements prior to you making your journey, you can contact the nearest PNG Mission in your vicinity. As with any location it is better to familiarize yourself using a long time resident or a local tour guide that speaks the lingua franca 'Tok Pisin' fluently.
Security
Papua New Guineans are generally friendly and fun loving people. As with any other major centre in the world, there might  be unscrupulous opportunists so it is wise take precautions by paying attention to your surroundings, avoiding secluded places, organizing your travels to daytime and ensure that your valuables including passports and other travel documents are in a secure place. It is advisable to seek the local contact of your high commision or embassy and keep it on hand.  PNG's national security will be heightened until the end of November this year (2018) to cater for the Australia Pacific Economic Cooperation (APEC) which is being hosted in Port Moresby.
Communication
There are four mobile service providers in PNG, Digicel has the best reach throughout the country, Bmobile Vodafone and Telikom networks may not be accessible in rural locations. All plans are compatible to international call rates. A new sim card will cost you K20, equivalent to about AUD$8.20 and the call plans range from daily plans for K3 (AUD$1.22) to monthly plans for K100 (AUD$40.99).
Airports
Jackson's International Airport, also known as Port Moresby Airport, is the main hub for the nations two major commercial airlines; Air Niugini the national flag carrier and PNG Air. There are three other international airports; Gurney Airport in Milne Bay Province, Kagamuga Airport in the Western Highlands Province and Nadzab Airport in Morobe Province, provide links to coastal, highlands and in-land getaways respectively. The National Airports Corporation is the body that regulates all air services in PNG. Road travel is geographically challenging because of the rugged terrain carved out by many river systems throughout the country, many journeys are interrupted if a river floods a road or bridge.
National Capital District and Central Province
Our focus is the National Capital District (NCD), the capital of Papua New Guinea and Central Province. NCD is built upon what used to be traditional land of the people of Central Province. NCD is commonly referred to as 'Mosbi' by locals even though Port Moresby is a suburb within NCD. According to projections from the 2011 PNG National Census, NCD and Central Province should have a total population of about eight hundred thousand. NCD and Central offer the best combination of urban nightlife entertainment and outdoor tropical adventures. NCD is where the majority of the nations hotels, motels, restaurants and the foreign missions are located.
Shopping
NCD consists of eight suburbs which have their own shopping centres but if you prefer having the convenience of doing your grocery shopping, while grabbing a bite to eat,  and also watching a movie and perhaps having beauty treatment done in one stop; you have the choice of Vision City, Stop N Shop Waigani and Waterfront Foodworld. For locally grown organic food every Sunday between 6am to 10am The Pacific Adventist University grounds host a fresh food and produce market that offer secure parking and attractive prices. If you are planning a weekend outside of Port Moresby, there are also larger trade stores located in the main districts within the Central Province for your convenience.
Pictured: Vision City Mall | Source: Looppng.com
Accommodation
For short term stay there are literally hundreds of lodges, motels and hotels to choose from that offer a variety of services including airport shuttles, city tours and restaurants. Costs can vary from less than K100 per night for the budget traveller to over K1000 for the travelling executive.
For a longer term stay the Airways Residences offer secure, beautifully landscaped grounds that have a convenience store, a bank, a pool, several restaurants, a gym, a massage parlour and generally everything you need in one compound.
For longer term accomodation, there are over 3,000 properties and 78 real estate agencies that you can contact by visiting PNG's leading online property portal; Hausples.com.pg.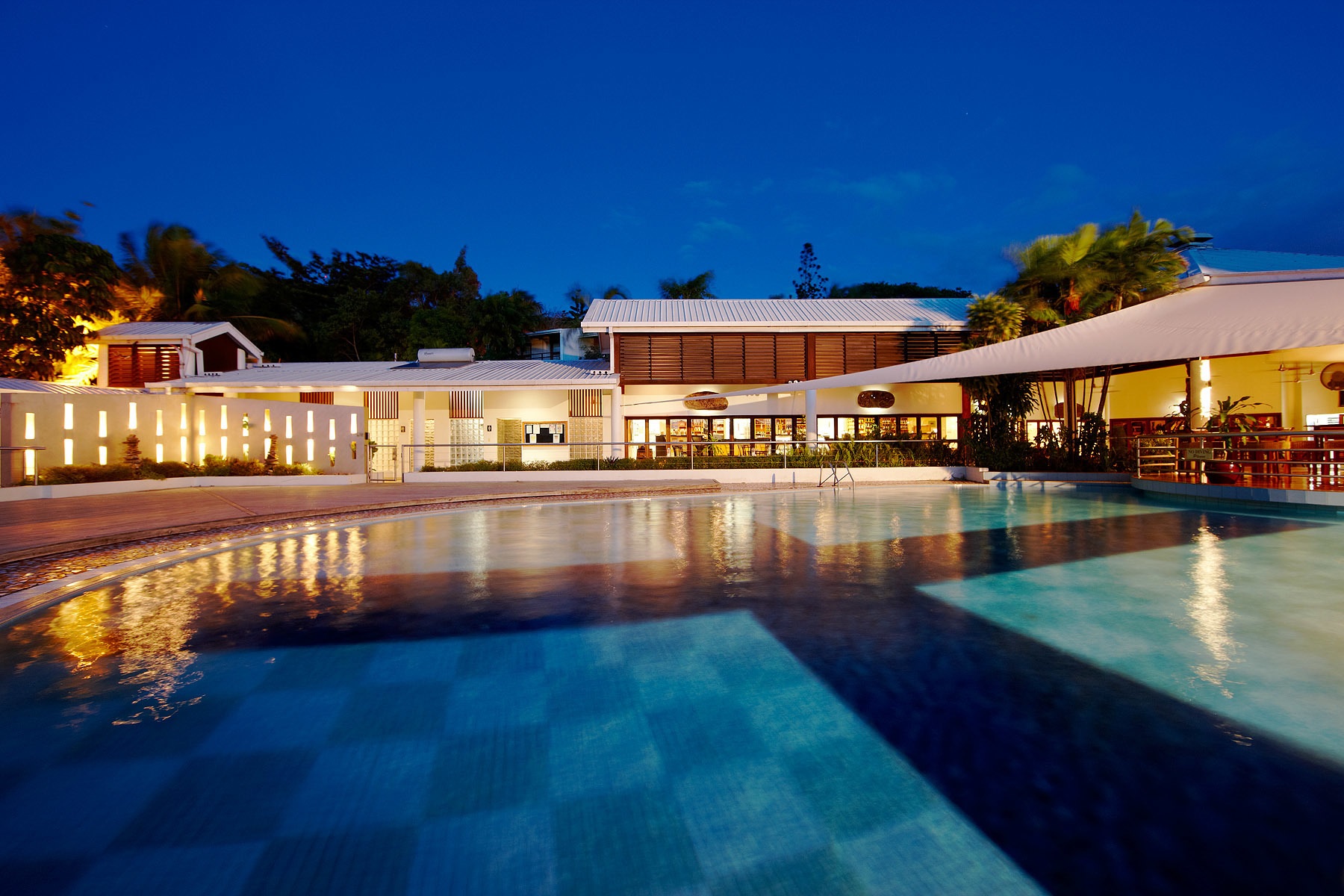 Dining out
There are many places which offer a combination of a great scenic and gastronomic experiences. The following offer sea views: The Ela Beach Hotel, The Yacht Club, The Naked Fish on the Pier and The Edge. Outside of Port Moresby you have Loloata Island Resort and Sunset Lodge. If you prefer having a river and majestic mountains as your backdrop Cafe 630, Koitaki Country Club and the Kokoda Trail Motel are ideal locations. There is also a wide variety of Asian cuisine, including Fusion, Seoul Haus, Daikoku, Imperial, Golden Bowl and Fu Gui.
Social Clubs
Networking and getting to know other expatriates in the country can be made easier by going to your nearest social club which include the Aviat Club, Car Club and the Yacht Club. During the weekends there is always a craft market happening where you can purchse examples of the art and culture of Papua New guinea. There are many expatriate clubs that gather frequently in the city - it is really a matter of linking up with those that share similar interests.
Pictured: Royal Papua Yacht Club | Source: Royal Papua Yacht Club Business Site
Places to Visit
Depending on what tickles your fancy there are places that offer a great view, historical and cultural insights and resplendent traditional works of art like The National Museum, The PNG National Parliament House and the Port Moresby Nature Park.
Pictured: Variarata National Park | Source: PNG Journeys (Twitter)
If it's a more family oriented leisure activity you are after there is the Port Moresby Adventure Park, The Variarata National Park pictured below has a walking track and many groups conduct their survival and team building camps in this area. The Crystal Rapids offer a refreshingly cool river with barbeque facilities available. There is also Sirinumu Dam - the dam that supplies water to the whole city, if you simply want to escape the city and let the kids run loose.
There are many more places to eat, socialize, swim, snorkel, shop and be entertained that NCD and Central Province have to offer. Be adventurous and take a little time out and you will make some amazing memories in PNG.