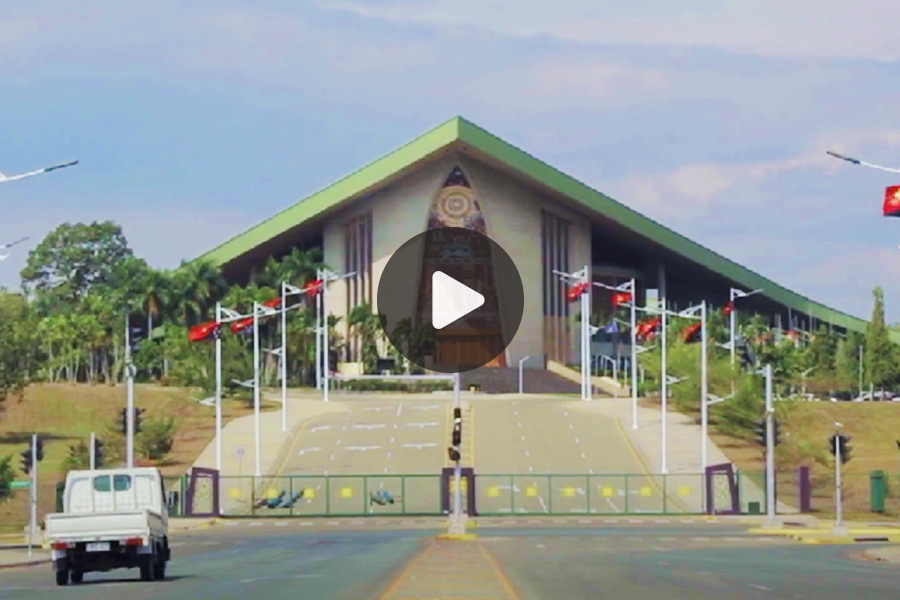 Waigani | Source: YouTube
Waigani Suburb, or colloquially referred to as Waga, is centrally located between the Tokarara, Ensisi, Gordons and Gerehu suburbs, and sits ideally northwest of downtown Port Moresby and southwest of Jackson's International Airport. 
As one of the largest and most iconic suburbs in Port Moresby, Waigani is home to several historical landmarks such as the National Parliament, National Museum, the National Library, Port Moresby's National Arts Theatre, National Archives, Morauta Haus, and the newly refurbished City Hall.
The sharp number of the population living in Waigani can be a pro or a con depending on your experience of the area. But one cannot deny the fact that since 2018's APEC Summit, Waigani has experienced a boom in infrastructure development, thanks to the likes of: 
The Independence Boulevard; 
The Convention Center; 
Koura Way (connecting both Waigani and Hanuabada via Tokarara and June Valley); and,
Keni Vani Road (links Gerehu and Rainbow with 8 and 9 mile); and,
The Sir Manasupe Haus (formerly Pineapple Building)

Map of Waigani | Source: Goolge maps
1. Witness the nation's monumental events
Not only is it one of the largest suburbs in the country but Waigani also has the most national and cultural attractions in it. The National Parliament, the National Museum, the Prime Minister's official residence, the Port Moresby National Arts Theatre, the National Library, National Archives, the PNG National Court, Morauta Haus (office of the Prime Minister of PNG) and the city's only golf course - the Royal Port Moresby Golf Course are all within a five minute drive of each other, essentially sharing fences with each other.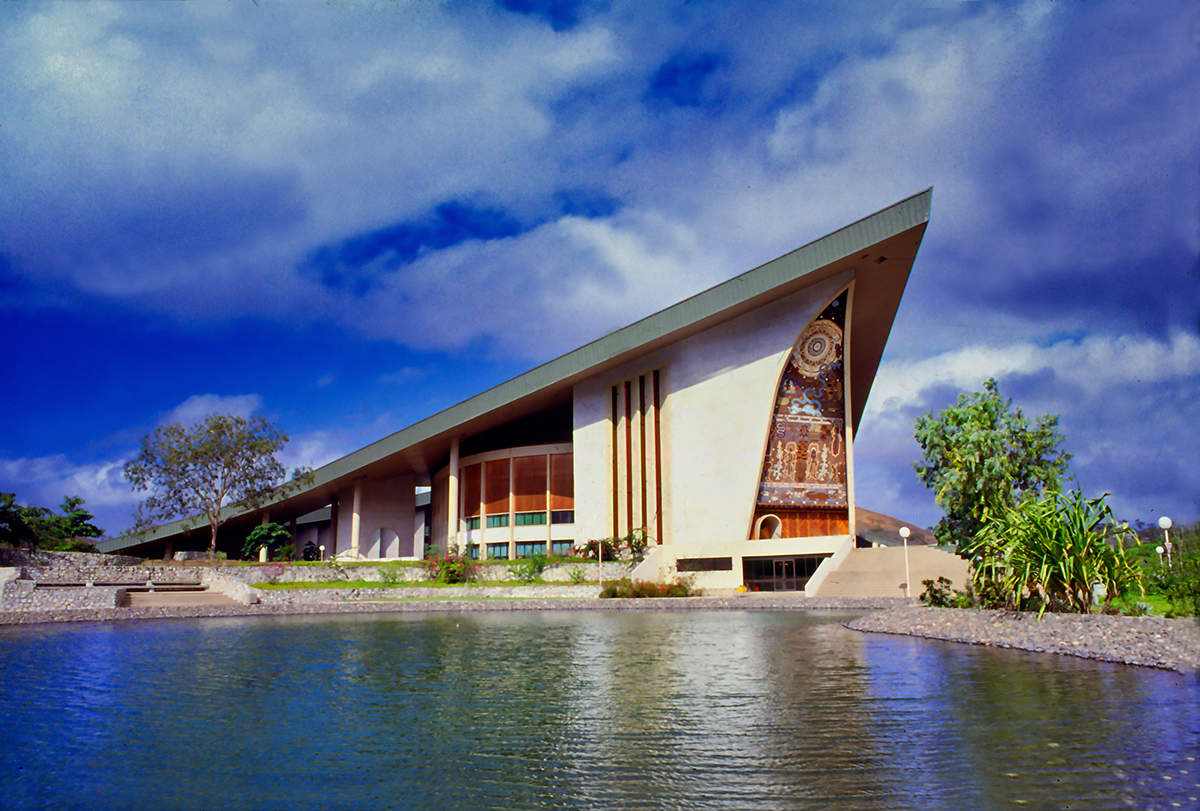 2. Affordability
In the main, Waigani is home to a variety of property types to suit different needs and wallet sizes. From bedsitters to executive apartments, there is no doubt you will find what you are looking for in terms of price and quality affordable real estate. Prices range from as low as K600 (approximately AUD$208) through to K10,000 (AUD$3,458) per week. 
3. Accessibility
By accessibility we mean in the terms of access to conveniences, ease to move from that suburb to another, and road condition. Waigani had recently seen upgrades of roads and new access roads afford residents the ability to quickly move from Waigani to other suburbs. Like Boroko, Waigani allows ease of access to many conveniences: schools, groceries, a police station, postal services, four banks, service stations; pharmacies and other health services; and there are more churches in this suburb than Boroko.
4.Versatility
Bedsitter, luxurious hotel, town house, church, market or an international sporting event - Waigani is as versatile a neighbourhood as they come. The suburb has a wide range of educational facilities initiated by private enterprises, churches and public institutions, with an array of subjects and teaching skills to suit. There's lots to do at Waigani, for instance sports and entertainment; whether you're an artist, an athlete, or a gaming nerd, there's an active spot for your ingenuity to come alive. If there is one suburb that truly has it all, it is definitely Waigani.
5.Security
In the early 90s, Waigani shared boundaries with two other suburbs (Morata and Gerehu Stage 6) that were notorious for holds up and robberies. Modernization and a steady stream of education and employment opportunities gradually rewrote the collective attitude of the majority of inhabitants, thus, turning both suburbs into livable areas, just like any other.
6. Aesthetic appeal
Waigani has many monuments and are found strategically located throughout the area, some in the form of infrastructure. There are structures that are graceful, symmetric and simply marvels of modern architecture; then there are also structures those that are utilitarian with carefully landscaped flower beds. and For the most part, Waigani has many mango and raintrees that sufficiently afford shades  and beautify residential areas.
7.Waigani Market
Waigani Market is one of only 3 markets in the nation's capital that is normally active between 8am and 6pm, daily. If you are looking for cheap, organically grown fresh fruit and vegetables in a secure location (the police station is right next to the market), then look no further than Waigani market.
8. The biggest shows happen here
Show us a venue that can cater to a variety of sports and entertainment activities, and I'll show you one that triples the effort. Yes, Sir John Guise stadium deserves a second mention, because of its location and its multi-purpose capacity. 
The Sir Guise stadium is usually the ideal venue for major events such as local trade shows, international sporting events, and live entertainments. The Real Estate shows from 2017 to 2019 utilized the stadium's multi-purpose indoor complex and immediate outdoor space to that effect. Not too far down from the stadium are the  Australian High Commission, Japanese Embassy, and the iconic Sir Manasupe Zurenuoc Building, formerly Pineapple Building.
All these factors make Waigani one of two of the most sought after suburbs to live in Port Moresby.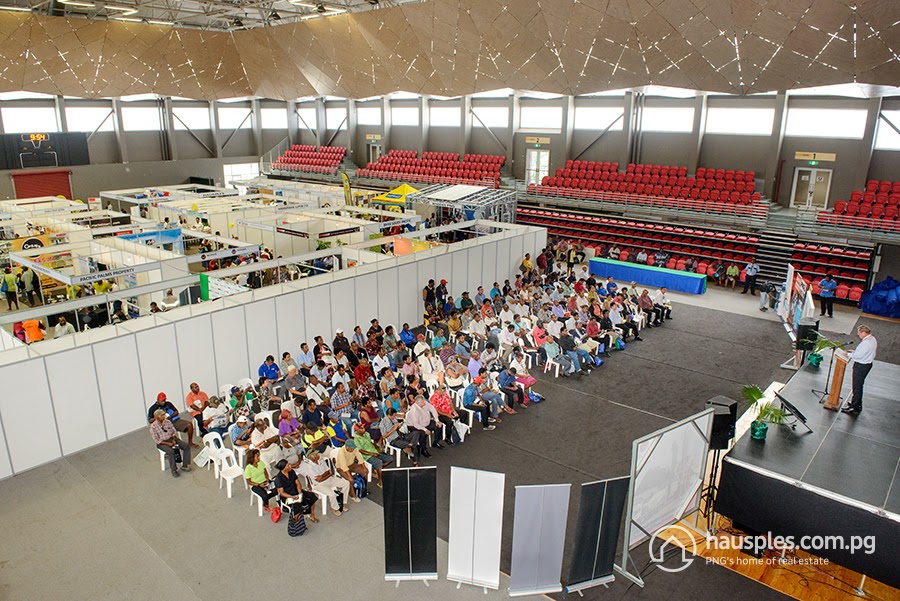 2018 Real Estate Show at the Sir John Guise Indoor Complex
All of these factors make Waigani one of two of the most sought after suburbs to live in Port Moresby.
If you would like to see what is available for sale or rent in Waigani you can click Here. Remember you can refine your search to Buy or Rent, you can define the Property Type your are looking for and you can search for a particular price range by clicking and entering the relevant data on the tabs. 
For more information you can Subscribe to our Newsletter to receive news and updates about New Developments, Land Titles News, Insurance Information, Real Estate & Housing Demand trends and other information for developers or home buyers.