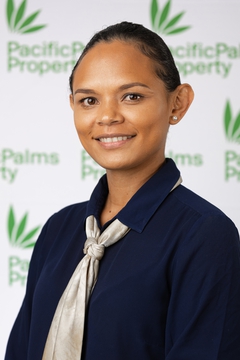 Megan Gangloff
Harbourside Portfolio Manager
Megan Gangloff is of Papua New Guinean, Chinese and European heritage.
Megan joined PacificPalms Property as Portfolio Manager - Harbourside Precinct, in October 2019.
Megan enjoys forming relationships with our existing and potential clients, and being responsible for this amazing property (Harbourside Precinct) that offers international standards to meeting clients' requirements. She is currently studying online with IEA College of TAFE for Diploma of Business. She has 6 years of experience in Sales & Marketing. The atmosphere at PacificPalms Property has been very welcoming and she is learning a lot regarding the maintenance & upkeep of the property since joining the team.
Megan sees herself as being a social person.
Need help?